Sage X3
Sage X3 ERP takes the complexity out of running a business with faster, easier and more flexible business applications. Sage X3 is the next generation of business software enabling your business to grow faster. Sage X3 provides all users with secure mobile access to all data and functions of the system from anywhere and on most popular platforms. Unlike traditional business applications, Sage X3 simplifies every part of your business, leaving you lean and ready for whatever comes next, wherever you are in the world.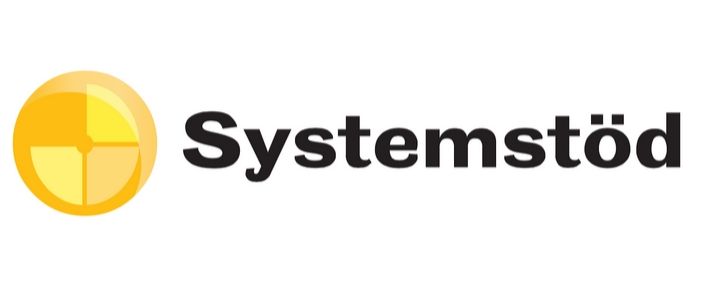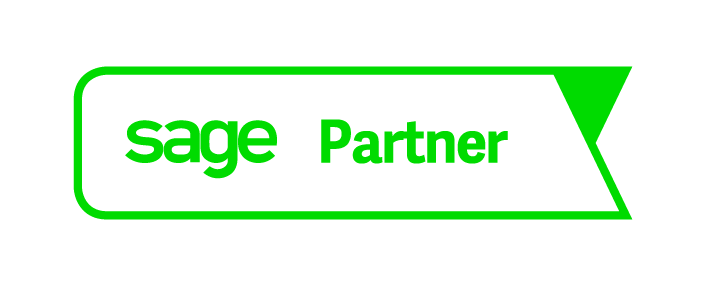 Systemstöd your Sage X3 Partner in Sweden has developed the Sage X3 localization, legislation for the Swedish market and translated Sage X3 to Swedish. Read more about Sage X3 Swedish localization here >
---



Ready for your industry




More about Sage X3
Sage X3 has support for 15 different languages, either SQL or Oracle database platforms on Linux, AIX or Windows-based hardware. Below you can find leaflets and brochures with information about Sage X3 in logistics and distribution, manufacturing, services and process manufacturing.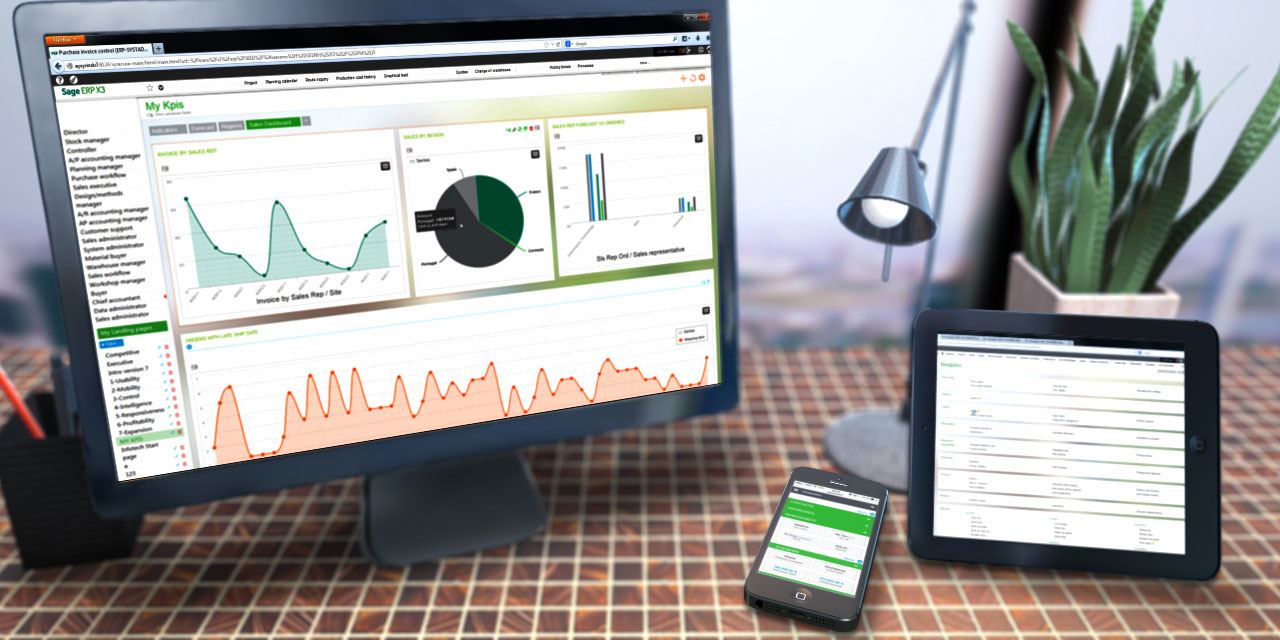 ---
Now you can grow faster, without getting bigger (Swedish) >
Brochure presenting the basics of Sage X3 around the user interface, modules and functions and business support for various industries.
Sage X3 Swedish localization >
We have translated Sage X3 into Swedish and developed the Sage X3 localization for Sweden. This localization is also applicable for Norway, Finland and Denmark.
Sage Solution Capabilities Guide >
A guide with an overview of all modules, functions and product features in the Sage X3
Architecture and system requirements >
Information on system requirements and setup for Sage Architecture for the platform used by Sage X3.
Distribution Industry >
Product sheet with information about how you can reduce costs, turnaround times, improve customer satisfaction and promote cooperation with Sage X3.
Distribution - Challenges and outlook for a fast-moving market >
Brochure about the challenges and future of companies with focus on logistics and distribution and how Sage X3 business software support these requirements.
Sage X3 for Process Manufacturing >
Faced with global competition, today's process manufacturers face daily challenges to meet the requirements of their markets. Product sheet about Sage X3 for Process Manufacturing.
Process manufacturing and ERP: Worlwide customer insight >
Discover what current users of Sage X3 think about their challenges and how they are handled in Sage X3.
Grow forward with faster, simpler, and flexible ERP >
Increase productivity and revive profitable growth with a faster, simpler and more flexible ERP solution.
Sage X3: Top seven enhancements >
News and improvements in the latest versions of Sage X3.
Sage X3 - Sage Enterprise Intelligence >
Sage Enterprise Intelligence is an intuitive business intelligence solution integrated with Sage X3 business software.
Benefits of mobile ERP function in manufacturing >
Five benefits of mobile ERP function in manufacturing.
Supporting workplace mobility with ERP >
For mid-sized businesses, quick and secure access to real-time business information via mobile devices will become an enabler for modern commerce.
Sage X3 Modules
Sage X3 business software offers rich and integrated functionality to support all your business processes with minimal IT investment and resources.
---



---



---



Cloud
Now your business can benefit from an ERP system with high functionality and security in the cloud without the complexity and cost of the typical business system. Sage X3 simplifies the management of all aspects of your business. From manufacturing, logistics and distribution to finance and keep your organization efficient and ready to grow.
---
---
Flexible and scalable to support your entire business

Sage X3 offers powerful features that can be configured to meet the unique way you operate and do business. Sage X3s flexible data model supports complex organizational and reporting structures. This simplifies and streamlines the management of several plants, companies or business units, regions and countries from a single installed instance of the Sage X3.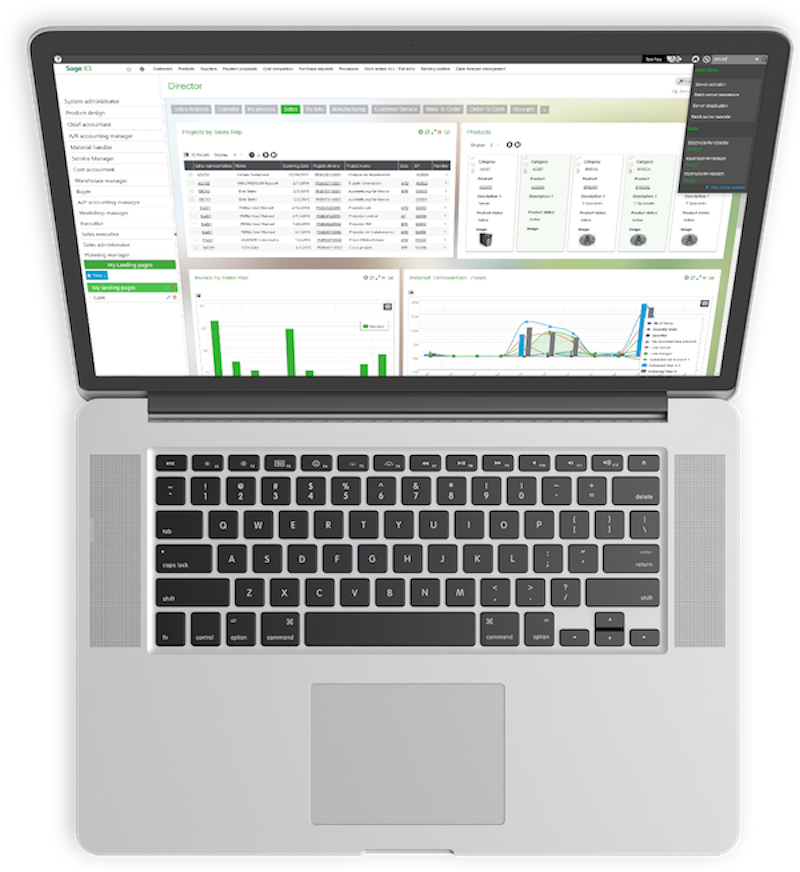 Personal web and mobile user experience
With Sage X3 we introduce a better and more personalized user experience with secure web and mobile technology at its core. Whether is they are in the office or on the road, all Sage X3 users have access to the information they need in an intuitive interface, personalized to their role. Distribution of Sage X3 to all users via mobile and web enables access to common business data from anywhere and on any device and platform. Sage X3 has an HTML5 interface that provides an intuitive user interface in the browser and allows extensive personalization.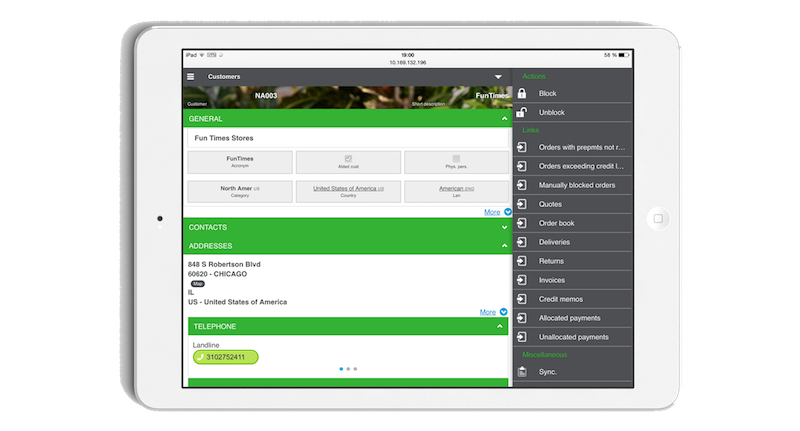 Ready for your industry
Unlike other business software and ERP systems that are highly dependent on add-on software and integrations to support industry-specific processes, Sage X3 includes features that are ready to use in most companies in distribution, manufacturing and service. Sage X3 has a flexible web services technology, which allows for easy integration and access to complementary solutions when required.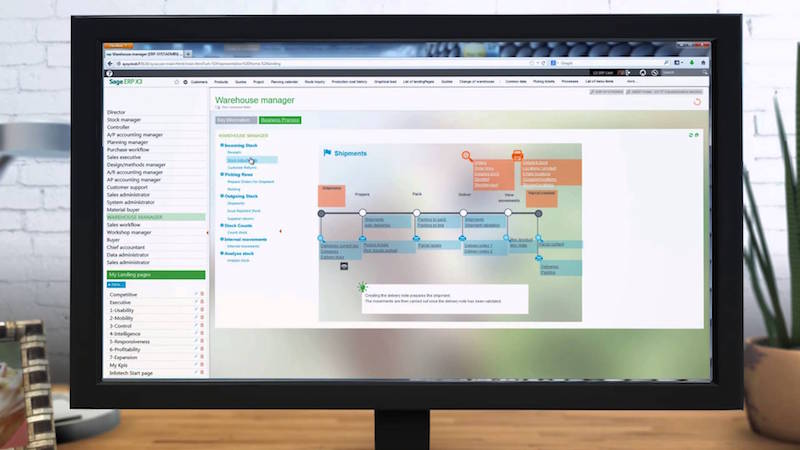 Ready to manage your business processes

Sage X3 provides rich functionality to support all your key business processes with minimal investment in IT and resources.
– Integrates purchasing, inventory, equipment, manufacturing, sales, customer service, accounting and finance.
– A solution with the possibility of workflow automation to accelerate business processes and improve follow-up in all areas of the business.
– Embedded analytics for deeper insight into the business with faster reporting, communication and decision making.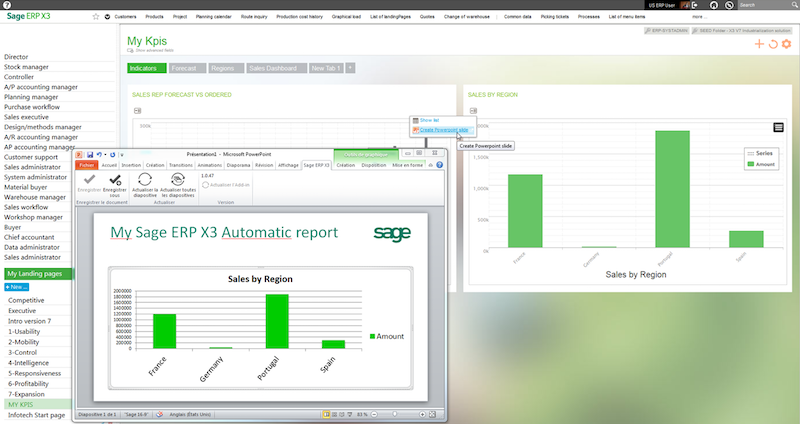 Ready to grow in a global business
Sage X3 eliminates the complexity of managing international business. It simplifies the management of international trade with suppliers, contractors, partners and customers (multi-language, multi-currency) and handle global operations from a single installed instance (multi legislation, multi-ledger, multi-site, multi-currency, multi-company).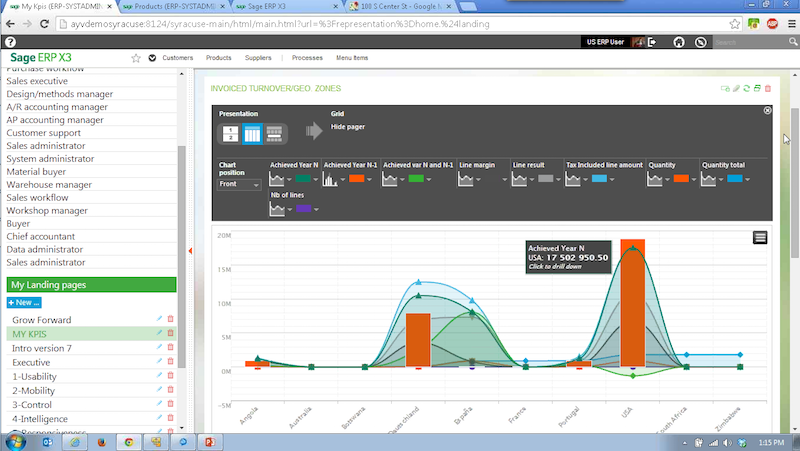 More information? Read Sage X3 solution capabilities guide here >