About Systemstöd
---
Systemstöd
Systemstöd is a leading provider of business critical systems based on Sage X3 business software and Jeeves ERP consulting services. Integrated with solutions such as inventory control, e-commerce, business intelligence, integration platforms, handheld computers, vertikal storage lifts, electronic invoices and budget and financial applications. We have also developed industry solutions for building materials trade, 3rd Party Logistics and retail.
We are a different ERP expert
We offer predictable and efficient processes around ERP.
A development of ERP based on needs. With an experienced partner who through a unique commitment and honesty, creates security and frees up time so you can devote to your core business.
We make ERP development to an asset
Our mission and drive is to make development of ERP systems to an asset, not a burden.
Through relationships with customers and colleagues based on honesty, we free up customers' time, create security and make everyone's everyday lives better. Our history and the customers we have show that we know ERP systems.
Vision
The leader of ERP development based on honesty and openness. The first choice in a market for business systems where honesty and openness are guiding principles.
Values and beliefs
Long-term successful companies are characterized by their visions and values that will last over time.
We build our values on Drive + Honesty + Together.

Our values guide us in how we do business and how we work together as colleagues and with customers and partners.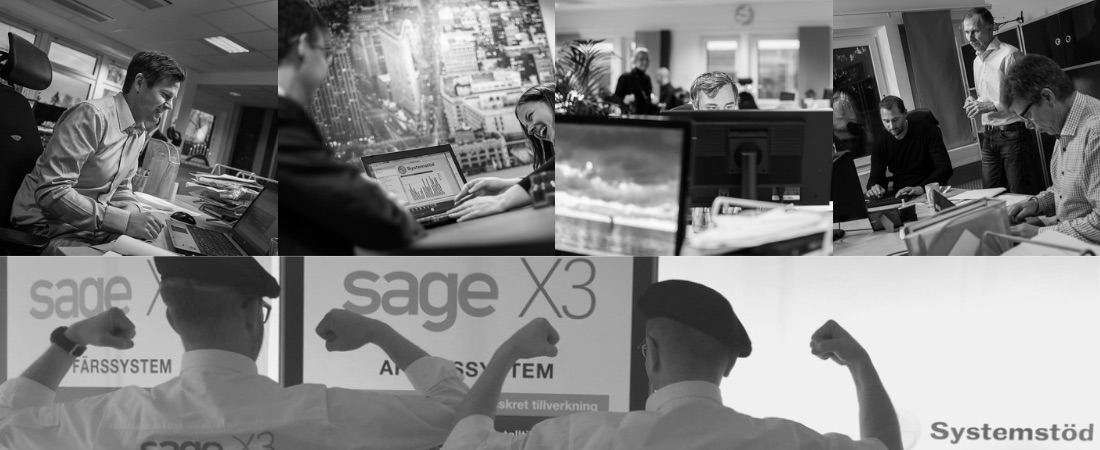 Business consultants
Our solutions represent many industries where we possess extensive experience and expertise, such as in industry, production, logistics, trade, service and project-driven organizations. Systemstöd offer business consultants from implementation to management, operation and financing of business projects.
Niches and special focus areas
One of our niches are handheld solutions linked to Sage X3 and Jeeves ERP. Proprietary software for managing RFID and bar codes increase the level of automation significantly. Through partners, we have access to the very best expertise in RFID in Sweden.
Other areas where we have developed integrations are for example integrations between ERP-systems and vertikal storage lifts and EDI integrations between different systems, IT platforms and e-commerce platforms. Furthermore, we have developed industry solutions for the building suppliers, retail , 3PL and service and project management.
Offices in Sweden
Systemstöd are represented with offices in Stockholm, Gothenburg, Linkoping, Jonkoping and Orebro.
Systemstöd blog
We publish posts delivering good advice and experiences of business development with IT and ERP software in our blog – Systemsstödsbloggen (Swedish)
Financial information
Financial information about Systemstöd can be found here >
---
Awards
---
---
Customer Statements
As a customer, I am cruelly satisfied with our cooperation with Systemstöd from day one with Jari, Jens, Anders and the rest of their colleagues.
Jörgen Balogh, Market Controller, Pocketgrossisten Bonnierförlagen AB
Regarding experiences in our ERP-system, I am so pleased and happy and proud of the environment we are currently working in. It is a true pleasure to share our experiences.
Malin Habegger, Purchasing Manager, Bygg-Ole Service Center AB
We would like to express our thanks for a successful upgrade of our business ERP-system. We think it all has flowed smoothly and are grateful for the quick response we received from you on the problems that encountered. Now we look forward to working in the new business software version and in cooperation with Systemstöd develop our ERP-system further.
Marie Boqvist, Sr. Buyer, Datapath International AB
It is a delight to have you as a supplier. The result is always as expected (or better) + moreover, you are cruel nice = great fun to work with you.
Ingela Sundell, Logistic Specialist, Philips Women's Healthcare
We believe in our cooperation because Systemstöd has a wide experience and show good understanding of Silva's activities that is changing.
Håkan Svaleryd, CFO, Silva Group, Silva Sweden AB
---
Systemstöd got some amazing reviews from its employees and therefore come directly into the list of Sweden's Best Workplaces 2015. Here is very large freedom and responsibility culture, characterized by trust and openness, from the first interview and throughout the period of employment.
---